daily skin cleansing - optimal against powder materials and finest particles
powder-ex is optimised for daily use in the workplace for effective and gentle skin cleansing of powdery materials, especially metal, plastic and ceramic powders. powder-ex removes even the smallest particles from the skin without affecting the skin barrier – a great advantage in daily use compared to soaps and detergents with friction bodies.
powder-ex is universally applicable: it removes metal, semiconductor, polymer and inorganic particles.
For the smallest particles from 4 nanometres
The smaller the particle size, the more difficult it is to remove them from the skin with water alone. powder-ex removes even the smallest particles from a size of 4 nanometres.
powder-ex is specially designed to bind the smallest particles in order to remove them from the skin: even nanoscale particles are removed by more than 99 %.
In order not to impair the natural skin barrier when cleaning the skin of hazardous substances, powder-ex was developed completely without soaps and penetration enhancers – in accordance with the recommendation of HSE guidelines like the German 'TRGS 401'.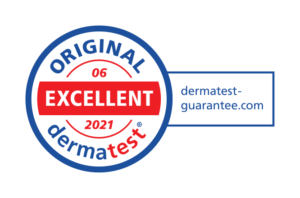 powder-ex is pH skin neutral and very well tolerated by the skin. The skin compatibility has been tested by the independent dermatest institute and rated as 'excellent'.
Complements the skin protection plan
powder-ex complements soap in the skin protection plan: Soap is recommended after going to the toilet – but soap should not be used for skin cleansing in the manufacturing environment. powder-ex is used when leaving the premises where powdered materials are stored or processed – for example before a meal break.

Handling powders and fine particles - a challenge for HSE
In many work areas, employees are exposed to metal powders, plastic powders and other fine powders. These can be work areas where powders are used specifically, such as in additive manufacturing, pigment production, compounding or in the cosmetics industry, as well as work areas where they are produced in processes, such as polishing, milling, drilling, blasting or sintering. These work areas are confronted with special challenges in occupational safety. Small particles in particular cannot usually be removed from the skin using standard methods. Both skin contact and the resulting oral ingestion of the particles through contamination carry-over pose a health risk. 
The smaller the particle size, the less suitable existing agents are for washing off the powders. Skin cleansing agents used should not contain soaps or other penetration enhancers in order not to damage the natural skin barrier. Soap, surfactants and solvents open the pores of the skin, which can lead to an increased absorption of hazardous substances (see German Guidelines TRGS 401).
powder-ex was developed to meet the high requirements in these work areas: Reliable skin cleansing without impairing the skin barrier.
Frequently Asked Questions (FAQ)