effective skin cleansing after fire operations
pak-ex authorized distributors
PAH - a health risk in fire fighting missions
Polycyclic aromatic hydrocarbons (PAHs, or PAK in German) is a term for a large chemical group of substances that has been the focus of scientific and public attention for decades because of their problematic properties for humans and the environment. The carcinogenic PAHs are found in fire smoke – and are therefore a health risk for occupational groups such as firefighters and chimney sweeps.
PAHs can be taken up into the body via the skin – so in case of contamination, two points are important: effective cleaning and maintaining the natural skin barrier. Soaps and soap-containing products impair the skin barrier – and lead to increased absorption of PAHs!
That is why we have developed pak-ex, an effective and safe state-of-the-art product soution.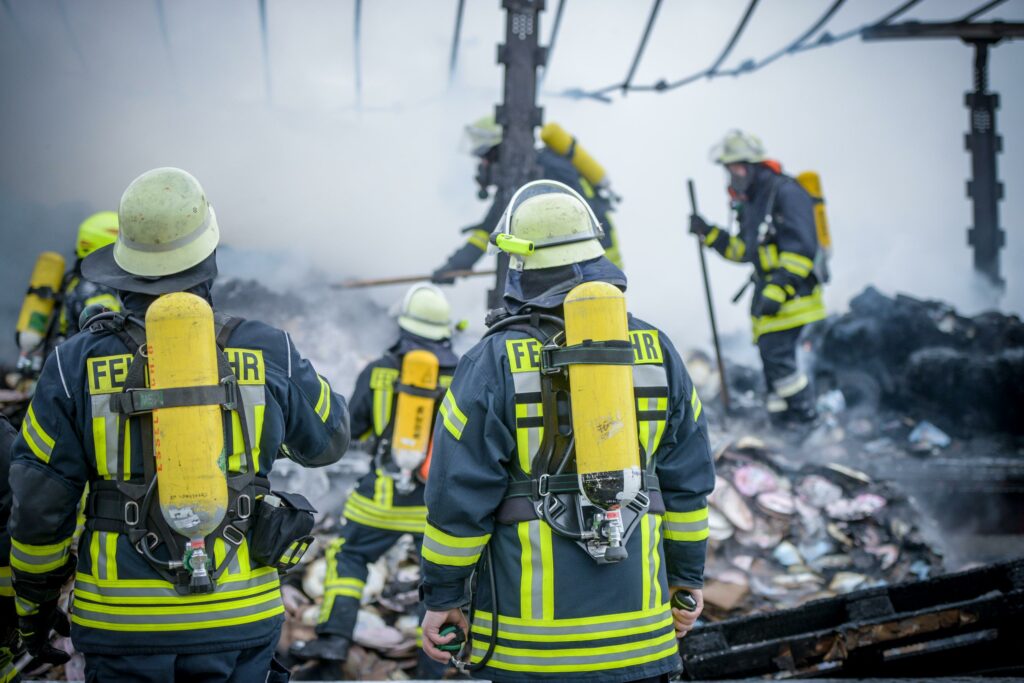 For thorough skin cleansing after fire operations
Why no penetration enhancers?
Our skin protects us from external environmental influences. Factors such as sweat, very warm water or injuries to the skin can already weaken our skin's protective barrier and lead to increased absorption of hazardous substances on contact.

From scientific studies, however, a number of substances are also known that act as so-called 'penetration enhancers' – i.e. substances that cause the natural skin barrier to be overcome.

In medicine, this principle is used to facilitate the absorption of medical agents through the skin.

But in contact with hazardous substances – such as PAHs in fire operations – these penetration enhancers have no place, of course. Therefore, care must be taken when selecting skin cleansing products!
Which penetration enhancers are known?
Soap impairs the skin barrier, many people know that. But what else? Since we have already been asked many times, we have started to compile a list of scientifically proven penetration enhancers.
The list is not complete – but it is a start and should help you to make the right choice for skin cleansing after fire operations based on sound scientific findings.
Alcohol denat [1], Aloe Barbadensis extract [10], Caprylic/Capric Triglyceride [8], Cetylpyridiniumchlorid [13], Chamomilla Recutita Extract [9], Citric Acid [6], Cocamidopropyl Betaine [4], Coco Glucoside [3],  Disodium Cocoyl glutamate [7], Glycerin [1], Isopropyl Alcohol [1], Lactic Acid [5], Limonene [12], Linalol [12], PEG-40 Hydrogenated Castor Oil [2], PEG-75, Polysorbat 20 [14], Propylene Glycol [1], Sodium Cocyl Glutamate [7], Sodium Lauryl Sulfate (Soap) [13], Vitamin E [11].
List of references [Link]
Skin-compatible, pH skin-neutral, for daily use - confirmed by DermaTest.
Dr. Jonas Schubert
schubert[at]dermapurge.com
+49 351 4658 700
Jonas Schubert is the managing director of our DermaPurge GmbH, has a doctorate in chemistry – and has already been active in the fire brigade for 22 years. He is a respirator wearer, group leader and, during his chemistry studies in Bayreuth, was a specialist NBC advisor in the hazardous materials fire brigade.

During his research work at the Leibniz Institute for Polymer Research, he developed the skin cleansing product nano-ex together with his colleague Max Schnepf. With personal motivation and accumulated know-how, the team focused their research and development work on a skin cleansing product for fire brigades to effectively wash PAHs from the skin without impairing the natural skin barrier.
Together for better health and working conditions for our firefighters!
[1] Williams AC, Barry BW. Penetration enhancers. Advanced Drug Delivery Reviews, Volume 56, Issue 5, 2004, Pages 603-618.
[2] Burnett CL, Heldreth B, Bergfeld WF, et al. Safety Assessment of PEGylated Oils as Used in Cosmetics. International Journal of Toxicology. 2014;33(4_suppl):13S-39S. doi:10.1177/1091581814546337
[3] ElMeshad, AN, Tadros MI. Transdermal Delivery of an Anti-Cancer Drug via W/O Emulsions Based on Alkyl Polyglycosides and Lecithin: Design, Characterization, and In Vivo Evaluation of the Possible Irritation Potential in Rats. AAPS PharmSciTech 12, 1–9 (2011). https://doi.org/10.1208/s12249-010-9557-y
[4] Pandey A, Mittal A, Chauhan N, Alam S (2014) Role of Surfactants as Penetration Enhancer in Transdermal Drug Delivery System. J Mol Pharm Org Process Res 2:113. doi: 10.4172/2329-9053.1000113
[5] Copoví A, Díez-Sales O, Herráez-Domínguez J.V., Herráez-Domínguez M. Enhancing effect of alpha-hydroxyacids on "in vitro" permeation across the human skin of compounds with different lipophilicity, International Journal of Pharmaceutics, Volume 314, Issue 1, 2006, Pages 31-36, ISSN 0378-5173, https://doi.org/10.1016/j.ijpharm.2006.01.033.
[6] Prasanthi D, Lakshmi PK, "Effect of Chemical Enhancers in Transdermal Permeation of Alfuzosin Hydrochloride", International Scholarly Research Notices, vol. 2012, Article ID 965280, 8 pages, 2012. https://doi.org/10.5402/2012/965280
[7] Okasaka M, Kubota K, Yamasaki E, Yang J & Takata S (2019) Evaluation of anionic surfactants effects on the skin barrier function based on skin permeability, Pharmaceutical Development and Technology, 24:1, 99-104, DOI: 10.1080/10837450.2018.1425885
[8] Leopold CS, Lippold BC. An Attempt to Clarify the Mechanism of the Penetration Enhancing Effects of Lipophilic Vehicles with Differential Scanning Calorimetry (DSC), Journal of Pharmacy and Pharmacology, Volume 47, Issue 4, April 1995, Pages 276–281, https://doi.org/10.1111/j.2042-7158.1995.tb05795.x
[9] Johnson W, Boyer I, Bergfeld W, Belsito D, Hill R, Klaassen C, Liebler D, Marks Jr, Shank R, Slaga T, Snyder P, Gill L, Heldreth B (2018). Amended Safety Assessment of Chamomilla recutita -Derived Ingredients as Used in Cosmetics. International Journal of Toxicology. 37. 51S-79S. 10.1177/1091581818801814.
[10] Cole L, Heard C. Skin permeation enhancement potential of Aloe Vera and a proposed mechanism of action based upon size exclusion and pull effect, International Journal of Pharmaceutics, Volume 333, Issues 1–2, 2007, Pages 10-16, ISSN 0378-5173, https://doi.org/10.1016/j.ijpharm.2006.09.047.
[11] Jay S. Trivedi, Steven L. Krill, James J. Fort, Vitamin E as a human skin penetration enhancer, European Journal of Pharmaceutical Sciences, Volume 3, Issue 4, 1995, Pages 241-243, ISSN 0928-0987, https://doi.org/10.1016/0928-0987(95)00014-5.
[12] Chen J, Jiang Q-D, Chai Y-P, Zhang H, Peng P, Yang X-X. Natural Terpenes as Penetration Enhancers for Transdermal Drug Delivery. Molecules. 2016; 21(12):1709. https://doi.org/10.3390/molecules21121709
[13] Som I, Bhatia K, M. Status of surfactants as penetration enhancers in transdermal drug delivery. J Pharm Bioall Sci 2012;4:2-9.
[14] Akhtar N, Rehman MU, Khan HMS, Rasool F, Saeed T, G Murtaza G. Penetration Enhancing Effect of Polysorbate 20 and 80 on the In Vitro Percutaneous Absorption of LAscorbic Acid. Tropical Journal of Pharmaceutical Research June 2011; 10 (3): 281-288