Effective skin cleansing after fire operations
Skin-compatible, pH skin-neutral, can be used daily and it is soap-free – so as not to impair the natural skin barrier.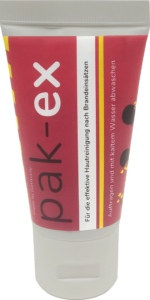 PAH - Health risk in everyday working life
Polycyclic aromatic hydrocarbons (PAHs, or PAK in German) is a term for a large chemical group of substances that has been the focus of scientific and public attention for decades because of their problematic properties for humans and the environment. The carcinogenic PAHs are found in fire smoke – and are therefore a health risk for occupational groups such as firefighters and chimney sweeps.
PAHs can be taken up into the body via the skin – so in case of contamination, two points are important: effective cleaning and maintaining the natural skin barrier. Soaps and soap-containing products impair the skin barrier – and lead to increased absorption of PAHs!
That is why we have developed pak-ex, an effective and safe state-of-the-art product soution.
For thorough skin cleansing after fire operations
Jonas Schubert is the managing director of our DermaPurge GmbH, has a doctorate in chemistry – and has already been active in the fire brigade for 22 years. He is a respirator wearer, group leader and, during his chemistry studies in Bayreuth, was a specialist NBC advisor in the hazardous materials fire brigade.

During his research work at the Leibniz Institute for Polymer Research, he developed the skin cleansing product nano-ex together with his colleague Max Schnepf. With personal motivation and accumulated know-how, the team focused their research and development work on a skin cleansing product for fire brigades to effectively wash PAHs from the skin without impairing the natural skin barrier.
Dr. Jonas Schubert
schubert[at]dermapurge.com
+49 351 4658 700
Interschutz 2022 - let's meet!
Together with our partners, we will be presenting pak-ex at Interschutz (20-25 June 2022) – and look forward to talking to you on site.
Are you interested in the topic of PAHs and operational hygiene as a user, dealer, press or in general? Contact us and we will arrange an appointment.
Dedicated to better health and working conditions for our firefighters!
We support FeuerKrebs® – the society for the promotion and sustainable improvement of health and working conditions for our firefighters. Learn more