The Committee for Hazardous Substances (AGS) in Germany has published a new TRGS 401. The focus is on current recommendations for skin protection when dealing with hazardous substances in everyday work.
Important points of the new TRGS 401:
Emphasis on prevention and STOP principle.
Proper skin cleansing and selection of skin products: significantly more detailed explanations of incorrect and recommended skin products for skin cleansing of hazardous substances.
We at DermaPurge are pleased that many of the points we have raised are being addressed in detail in the new TRGS 401 in order to provide employers and employees with clearer instructions on how to avoid contact and cleanse the skin of hazardous substances.
Questions about the new TRGS in relation to your skin protection plan? Contact us!
powder-ex in action: Protolabs employees report
PROTOLABS is a renowned name in additive manufacturing – with manufacturing facilities in seven countries, it is the world's fastest manufacturer of custom prototypes and low-volume parts. For this purpose, PROTOLABS works with fine-scale powders and pays attention to the latest standards in occupational safety. For this reason, after a test phase, the company decided to adapt the skin protection plan and to use powder-ex instead of soap or other skin cleaning agents for powder handling.

"A solution that has washed itself", by Georg Schöpf, in: ADDITIVE MANUFACTURING, x-technik-Verlag, 4/November 2022
pak-ex at FLORIAN 2022 fire brigade fair
At this year's FLORIAN 2022, we presented pak-ex for the first time at our own booth. We are very pleased about the once again overwhelming interest and positive feedback.
Highlights:
Presentation of pak-ex 2.0 in a pump dispenser as a prototype
Presentation of pak-ex as a trade fair highlight to State Secretary Dr. Arrow
DermaPurge at the Arbeitsschutz Aktuell 2022
"Skin cleansing from hazardous substances – outdated standards and new solutions" – with this contribution, Felix Klee, co-founder of DermaPurge, was asked to give insights into the work and innovations of DermaPurge GmbH on the EXPO stage at this year's Arbeitsschutz Aktuell fair in Stuttgart.

Watch the lecture on Youtube (German Only): https://www.youtube.com/watch?v=CvLumwhvYSE
Sächsische Zeitung presents pak-ex for the inventor award "genial sächsisch 2022".
"When there's a fire and people are in need, firefighters risk their lives to put out the fire. In Germany, 1.3 million volunteers and 40,000 full-time emergency workers work to save others from dangerous situations; however, your health is not only threatened by the flames. The smoke from the fire consists of chemical substances that are harmful to the body. These include the polycyclic aromatic hydrocarbons, PAHs for short. These carcinogenic substances are absorbed through inhalation or on the skin. An invention by the Dermapurge company from Dresden is now helping firefighters to get these substances off their skin quickly and easily."
With this introduction, the portrait of the Sächsische Zeitung as part of the inventors' competition "genial sächsisch".
Read article
More about PAK-ex
Occupational safety problem of powders in Additive Manufacturing: latest issue of 'ADDITIVE MANUFACTURING' informs
Not only the inhalation of smallest particles is a health risk: contact with the skin and especially wrong skin cleaning practices are often underestimated. A recent article in ADDITIVE FERTIGUNG explains what the risks are, why PPE is only one component, and what best practice should look like.
DermaPurge wins Best Pitch Award
"How Start-Ups shape your future" was the motto of the 49th Gründerfoyer, organised by dresden|exists for aspiring founders, and featuring a top-class keynote by Christian Olshausen, founder and CTO of Sunfire GmbH. We are delighted to have won first prize in the Best Pitch Award for presenting our path that led to founding and developing our DermaPurge GmbH.
pak-ex nominated for Saxony's best inventions 2022
It looks simple, but there is a lot of research behind it: every year, the largest Saxonian Journal presents inventions that impact society and daily life. We are proud to see that our recent innovation pak-ex has been nominated for 2022 awards, honouring the great added value of our innovation for occupational health and safety for the more than 1 million fire fighters in Germany – and in perspective many other occupational groups such as chimney sweeps and in industry.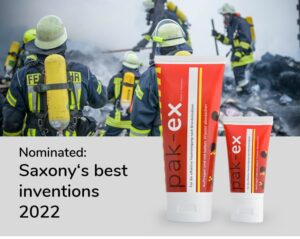 pak-ex product launch at Interschutz 2022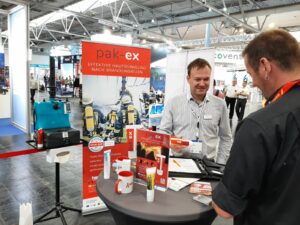 Interschutz is the world's leading trade fair for Fire Services, Rescue, Civil Protection and Security. This year, the fair set the stage for the first official presentation of our innovation pak-ex for safe and effective skin cleansing for fire fighters and other occupations that are exposed to carcinogenic substances in fire smoke. Thanks to our partners FeuerKrebs gUG, Feuerwehrmagazin, Lavese and AMVS.
Rapid.Tech 3D: DermaPurge introduces Powder-ex and advises on occupational safety in additive manufacturing with powdered materials
The Rapid.Tech 3D Printing Fair is one of the most important information events in the field of additive manufacturing processes. It looks at the status and progress of rapid prototyping up to the implementation of end products with the help of additive manufacturing, as well as the technology's entry into series production.
As part of Building 3D e.V., DermaPurge was invited to provide information about the risks of handling powdered materials and important building blocks for occupational safety – and of course to present Powder-ex as a unique innovation for these workplaces.
Frankfurter Allgemeine Sonntagszeitung interview with DermaPurge Managing Director Jonas Schubert
Risks of chemical warfare agents and weapon-ex as a decontamination solution
"Despite the ban, chemical weapons have been used again and again. For Putin, too, they are definitely an option." Due to the current situation and threath in Ukraine, the science section of the Frankfurter Allgemeine Sonntagszeitung of 3.4.2022 addresses the risks of chemical warfare agents and the weapon-ex developed by DermaPurge – in an interview with Dr Jonas Schubert, Managing Director of DermaPurge GmbH.
BRANDSCHUTZ -Article informs about "pak-ex" as a new product for the cleaning of PAHs after fire operations
In Collaboration with Marcus Bätge (FeuerKrebs®), we provide information on the current state of operational hygiene, risks from PAHs, and pak-ex as a state of the art solution  
pak-ex developed by DermaPurge for the effective cleaning of the skin after fire operations for firefighters is presented in the current issue of BRANDSCHUTZ. Together with Marcus Bätge from FeuerKrebs®, the risks posed by PAHs are explained and how pak-ex sets new standards in skin cleansing.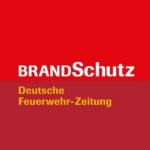 News from chemistry: Article on nanosafety and nano-ex

"Washing off tiny particles" – Nachrichten der Chemie publishes extensive article on nanosafety and nano-ex.
Based on the innovation nano-ex developed by DermaPurge and the extensive application possibilities, 'Nachrichten der Chemie' dedicates an article to the topic of nanosafety – with background information on challenges for occupational safety due to nanomaterials, insights into the Leibniz Research Network Nanosafety and on nano-ex – a first aid application developed by DermaPurge at the Leibniz Institute of Polymer Research to effectively remove nanoscale particles from the skin. 
nano-ex: Award for best innovation for lab-equipment 2021
Wiley Analytical Science Award 2022 chooses nano-ex as winner of this year's competition
Innovative solutions and products for laboratory work are awarded annually by the specialist publisher Wiley Analytical Science. In the "Separation, Lab Automation & Lab Equipment" category, DermaPurge took first place with the innovation nano-ex.
Read more: https://analyticalscience.wiley.com/do/10.1002/was.00170292/full/ 
LABORPRAXIS reports on nano-ex
DermaPurge in the CHEManager Innovation Pitch
Effective skin cleansing solutions for occupational safety: Background article provides insights into development
CHEManager, the trade and business journal for managers in the chemical and pharmaceutical industries and related sectors, presents one innovative start-up every month im CHEManager Innovation Pitch. The latest pitch provides a deep insight into the development history, status and goals of our spin-off DermaPurge at the Leibniz Institute of Polymer Research Dresden – including upcoming product developments and an interview with the founders. 
The complete article and download as PDF via the following link (German only): https://www.chemanager-online.com/news/effektive-hautreinigungsloesungen-fuer-den-arbeitsschutz
nano-ex is nominated for Wiley Analytical Science Award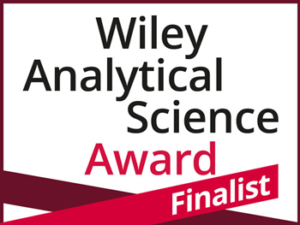 Jury of experts and users nominates nano-ex

Every year, the specialist publisher Wiley Analytical Science awards prizes for innovative solutions and products for laboratory work. This year, a jury of experts and users has nominated nano-ex in the category laboratory equipment. Voting is still possible until 31 September via the following link: www.was-award.de/com
dermatest confirms optimal skin compatibility of nano-ex
Very good skin compatibility dermatologically confirmed
The independent dermatological institute dermatest has awarded the skin compatibility of nano-ex with "very good". This seal is awarded for epicutaneous tests in which skin contact with the test product did not cause a product-related reaction in at least 30 test subjects. The epicutaneous test (patch test) is the detection of a primary irritant effect or a contact allergy (by provoking allergic skin reactions in already sensitised test subjects) through epicutaneous, localised and time-limited contact with the preparation under investigation.
Webinar for occupational health experts in Nanotechnology Research
First Webinar to introduce nano-ex: supported by the German accident insurance funds.
In order to present the occupational safety innovation 'nano-ex' to safety professionals at universities and research institutions in nanotechnology, DermaPurge is launching a webinar series in cooperation with the accident insurance funds.
nano-ex: a novel standard first-aid kit for occupational health in nanotechnology
nano-ex is now available within EU
If skin contact with nanoparticles occurs despite preventive measures when working with nanoparticles, nano-ex offers the first effective option for effective skin cleaning. nano-ex is soap-free and therefore TRGS-401-compliant, as the skin barrier is not impaired. nano-ex is suitable for all types of nanoparticles and removes more than 99% of all particles. nano-ex can be ordered immediately within the EU.